uPVC Doors in Rochester, Kent
uPVC Doors in Rochester, Kent
Are you looking for a new uPVC door for your home in the Kent or Medway area? If so, I have a beautiful selection of uPVC doors that I can install for you, providing expert precision at a fair and affordable price.
I have an excellent local reputation for installing high quality uPVC doors in Rochester, Maidstone, Sittingbourne, Chatham, Ashford and across Kent.
I offer a wide range of designs for you to choose from, whether you are looking for a front or back door, and a variety of colour options to make sure your door complements the look and feel of your home.
As a CERTASS registered individual, I have over 30 years of experience fitting double glazing products, ranging from doors to double glazing. I also work with top quality manufacturers to ensure that the doors and fittings I provide are made to last.
When you choose to work with me, you'll know with confidence that I can give you a first-class uPVC door service, from supply to fitting, with no extra fuss. I have the technical knowledge, the hands on experience, and the materials to give you the perfect fit first time, for a very good price.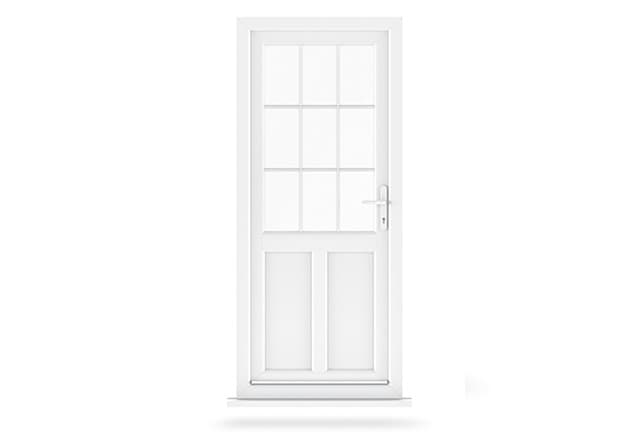 Benefits of our uPVC Doors
Our range of uPVC paneled front and back doors offer the following benefits:
Large Selection of Designs
Wide range of colours
Handle Options
Door Furniture Options
High Security Locking Systems
Threshold Options
Obscured Glass
Choice of Panel Designs
Security and strength are two of the most important factors for any uPVC doors. Whether you are in need of a patio, bi-fold, French or front door, I always make sure that all the designs I have available are guaranteed to keep your home secure.
Every door utilises the Yale Lockmaster multipoint lock, a high security locking system to keep out any unwanted guests. uPVC is a very weather resistant material, meaning that it will stay strong even in the face of bad weather. I also offer different threshold options to suit your home's needs, and the choice to put in obscured glass for extra privacy. This glass comes in a variety of welcoming patterns, providing added value to your door.
I understand that comfort is a very important part of any home, and the uPVC doors I am supplied are created and fitted with this in mind. By using an innovative design, my uPVC doors lock in hot air from both in and outside the house, keeping out the draughts and keeping in the warmth. They are also designed to minimize noise and water build up, all without you needing to lift a finger.
With a large selection of designs to choose from, and a 10 year guarantee, my uPVC doors are the essential choice for protecting against unpredictable British weather, keeping your home comfortable and safe all year round.
The biggest benefit to my uPVC doors is my fast and reliable service. I am not interested in gimmicks or hard pressure sales. When you choose me to fit your door, I will provide you with a high quality fitting at an honest, reasonable price. My local reputation and my many years of experience, accompanied with innovative uPVC door designs, I can guarantee that I am someone who can fit you the perfect door with minimal stress.
Durable, reliable and long-lasting, I guarantee that once I've put your new door into place, you won't have to worry about it for many years to come.

uPVC Door Furniture Options
You can add the following door furniture:
Numerals
Knockers
Letterplates
Cat Flaps
Spy Holes
Thresholds
Door Handles
Security Chains
Glass Designs
Doors are the first things people notice when entering and leaving the home. As such, once you've chosen a door you are happy with, you may also want to customise and make it stand out, giving it your personal touch. If this is the case, I am also able to fit any door accessories that you may like, so that you can personalise whichever design you choose to go with.
A wide range of customisable options are available for your door. The door knockers and letter boxes I provide can be designed with up to five different colours, including white, black, chrome, gold and silver. I am also able to install spyholes, suited to your height, to provide you with an added sense of security. My wide variety of glass designs, as well as the option to add numerals to your door, will help make the front and back of your house look unique to anyone coming to visit.
Additional accessories, such as cat flaps and security chains, are also available to install should your home require them. I am dedicated to giving you a service that you are satisfied with, and which gives your door the look and functions that you think it needs.
Brochure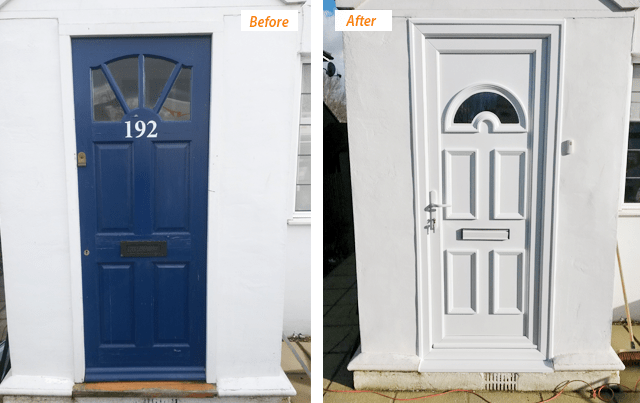 Contact Us
I am always eager to speak with my customers to find out their needs and concerns.
Speak to me and find out how I can help you with your new uPVC front and back doors in Kent.
Call me on 07949 070 682.
I look forward to hearing from you.