French Doors in Kent
Superb uPVC French Doors in Rochester, Kent
Our uPVC French Doors are a fantastic addition to any home in Rochester, Maidstone, Sittingbourne, Chatham and Kent, opening up your property beautifully in the summer, while keeping you cosy and warm in the winter time.
Looking to add a continental feel to your Kent home? Or perhaps you're looking for an innovative way to link your home and garden?
Whatever the reason, our uPVC French Doors enhance any Kent home superbly, available a huge variety of colours and featuring Liniar's thermally-efficient uPVC profile for optimum security and cost-effective properties.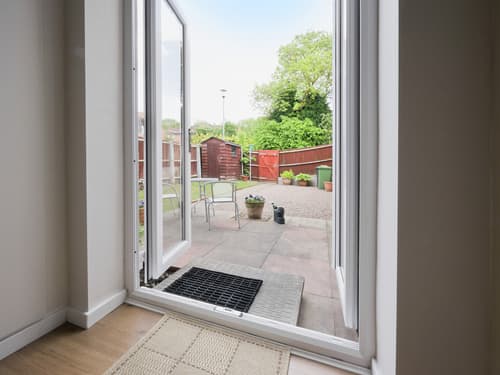 High Security
Choosing a uPVC French Door for your Kent home should always have security at the fore-front of design specifications. Your family can never be too safe, which is why we've incorporated high security Shootbolts from Yale supplied as standard, to keep your Kent or Rochester home as safe as possible.
Unfortunately French Doors can often be a target for forced entry – with uPVC French Doors from First Glaze there's no need for concern, as we use only the best locking systems available, plus we include a 10 year manufacturer's guarantee against cracking, warping or discolouration.
This gives your uPVC Patio Doors fantastic durable properties, resulting in the best security measures for your Kent property.
Cost-Effective
Looking for beautiful uPVC French Doors that don't cost the world? First Glaze have a fantastic range for you, all using Liniar's thermally efficient uPVC profile that will trap warm air and keep out cold draughts.
Trapping warm air in its fantastic multi-chambered design, our fantastic uPVC French Doors will keep your Kent home warmer for longer, resulting in a significant decrease in your heating bills!
A beautiful addition to your Kent property, our uPVC French Doors are bound to add a significant amount to the value of your home.  They make a fantastic future investment to your property, as potential buyers always love to see a set of fantastic French Doors on a Kent or Rochester home.
Range of Cohesive Colours
Here at First Glaze, we want your uPVC French Doors to seamlessly blend into the furnishings and fittings of your Kent home. For this reason, we have an extensive range of RENOLIT foils that are available in a variety of colours for complete consistency.
We also offer a premium range of Italian 'Dynamic 2D' door hinges, available in 8 colours that offer a beautiful slim-line design to your new uPVC Patio Doors.
We want your uPVC Patio Doors to be perfect, which is why we include such a range of colours and styles for you to choose from, for optimum consistency with your Kent home. No detail is too small for First Glaze.
uPVC French Door Prices
We price our uPVC French Doors very competitively, so get yours today!
Contact us for more information, or start your no obligation, instant online quote!