BiFold Doors Kent
Beautiful uPVC BiFold Doors in Rochester, Kent

Are you looking for superb bifold doors in Rochester and across Kent? We have a fantastic range for you, allowing you to connect home and garden together.
We offer a beautiful range of bifold doors for your property, supplying to a variety of homes in Rochester, Maidstone, Lenham, Ashford and other areas across Kent. Their sleek and stylish design is guaranteed to give a modern edge to any home.
Whether you're looking to add these to a traditional structure or contemporary building, we have the ideal solutions for you. Choose First Glaze for your bi-fold doors today, to open up your Kent home with fantastic security and cost-effective benefits.
Open up your Kent Home
View our superb range of bifold doors for a beautiful way to open up your Kent property. With a variety of fold configurations and styles from 2-7 panels, we can tailor your new bi-fold doors to complement your existing aesthetics perfectly.
Make a statement on your property with a beautiful set of bi-fold doors, using slim outer frames on the state-of-the-art uPVC Liniar profile to ensure up to 90% of the aperture remains unobstructed. This will allow natural light to flood into your Rochester home!
You can easily open up your living space with our stunning range of uPVC bifold doors. Add multiple leaves and choose a specific style configuration to suit your home and requirements.
Bifolding doors can open from either left to right or vice versa, and can also enable you to keep multiple sections open at one time – combining the benefits of both uPVC patio doors and uPVC French doors.
Thermally Efficient Bi-Folding Doors
For both our uPVC and our aluminium bi-folding doors, they boast amazing thermal performance. Stay nice and snug inside without the need of blasting your heating all day and all night. Keep the bad weather at bay with the installation of bi-folding doors.
If you're conscious about the environment, then consider this installation. Not only are they visually stunning, but they also help to shrink your carbon footprint and can be recycled. UPVC is a durable material that doesn't need lead reinforcement meaning that these doors won't end up in a landfill.
As you are reducing your negative impact on the planet, you will see a significant reduction in your energy bills. Saving money has never been easier. It is an important time to consider our uPVC folding doors because energy prices only seem to be continuing to rise.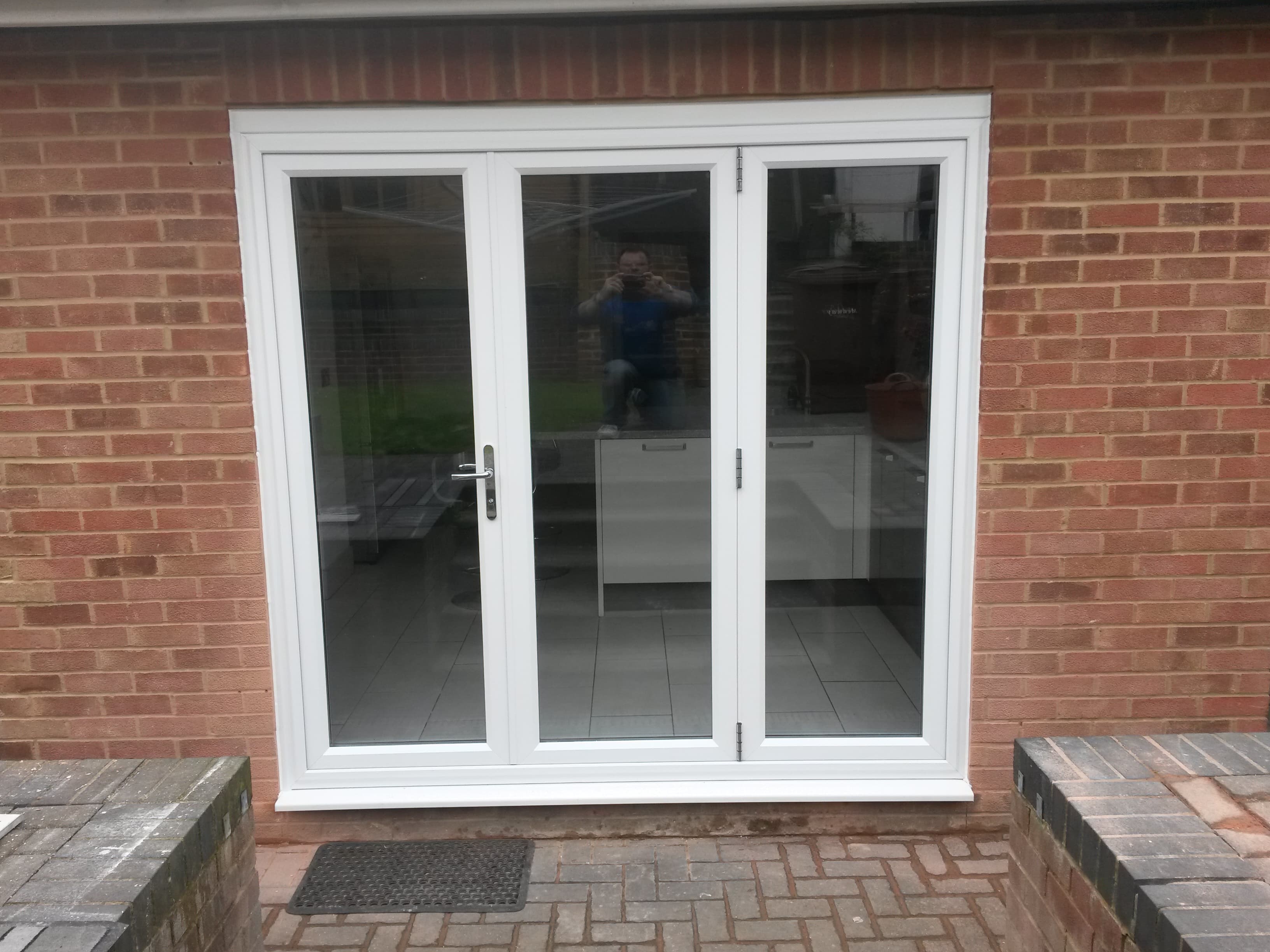 Cost-Effective Bi-Fold Doors
Are you looking for bi-folding doors in the Kent area, but have concerns about the price? There's no need to worry, as here at First Glaze we price our double glazed doors very competitively.
There's also no doubt that a beautiful set of bi-fold doors will add significant value to your Kent property. Prospective buyers love to see double glazed doors that are unique – bi-fold doors are a fantastic investment for the future.
Not only this, due to the thermal performance that comes with these stylish folding sliding doors, you will benefit from lower energy bills. These doors pay for themselves in the long term. Get them installed today, enjoy stunning views of your outdoor space and brighten up the interior of your house.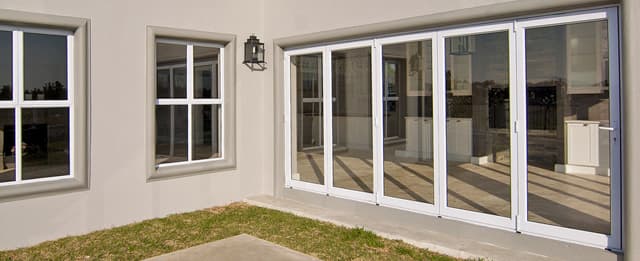 Secure Your Home With BiFold Doors
One of the most crucial things to think about when improving your home is the security features. We fit multi-point locking mechanisms to secure your installation into place when fully closed. This in combination with the strength of uPVC allows for a safer home in Rochester and the surrounding Kent areas.
Everyone deserves the right to feel secure in their property. We here at First Glaze want to ensure that this is just the case for all our beautiful customers. As a company, we have you in mind.
Get in touch with us today for more information about how we can guarantee you and your family's safety with our fantastic range of products today!
Variety of Threshold Options
Looking for Bi-Fold Doors that have easy-access properties?
Here at First Glaze, our priority is accommodating all customers, which is why we've included a range of threshold options for our stunning Bi-Fold Doors.
We offer an aluminium 24mm low threshold option, which is perfect for pushchairs and wheelchairs – plus an optional wheelchair ramp is available with all of our Bi-Fold Door styles.
Bi-Fold Door Video
Bi-Fold Door Prices
Looking for competitive bi-fold doors prices? We supply and install bi-folding doors for customers throughout Rochester, Maidstone, Lenham, Ashford, and other areas throughout Kent.
Contact us for more information – we can get back to you with all the relevant information you need. You can also start your online quotation today! Just put in your design preferences, and we will get back to you with a bespoke quote.