Aluminium BiFold Doors Kent
Luxury Aluminium BiFold Doors in Rochester, Kent
Aluminium bifold doors will add a luxurious entrance to your home in Rochester, Maidstone, Kent, Chatham, Sittingbourne, Lenham and Ashford.
These sliding folding doors are simply stunning, creating a breath-taking opening to your outside area as well as providing you with an enriched experience of your living space. These sleek and stylish installations can replace a section or a whole external wall. They could even replace a corner.
Aluminium bifolding doors are a fantastic way to brighten up your home in Rochester. Giving the illusion of extra space, these are the ideal solution for smaller rooms, conservatories, orangeries and other home extensions.
Slim sightlines maximise the glazing area giving you maximum amount of light exposure. Natural light is a great way to ensure that you feel happier in your home as you feel more connected to nature.
Contact us for more information on our aluminium bifold doors in Kent.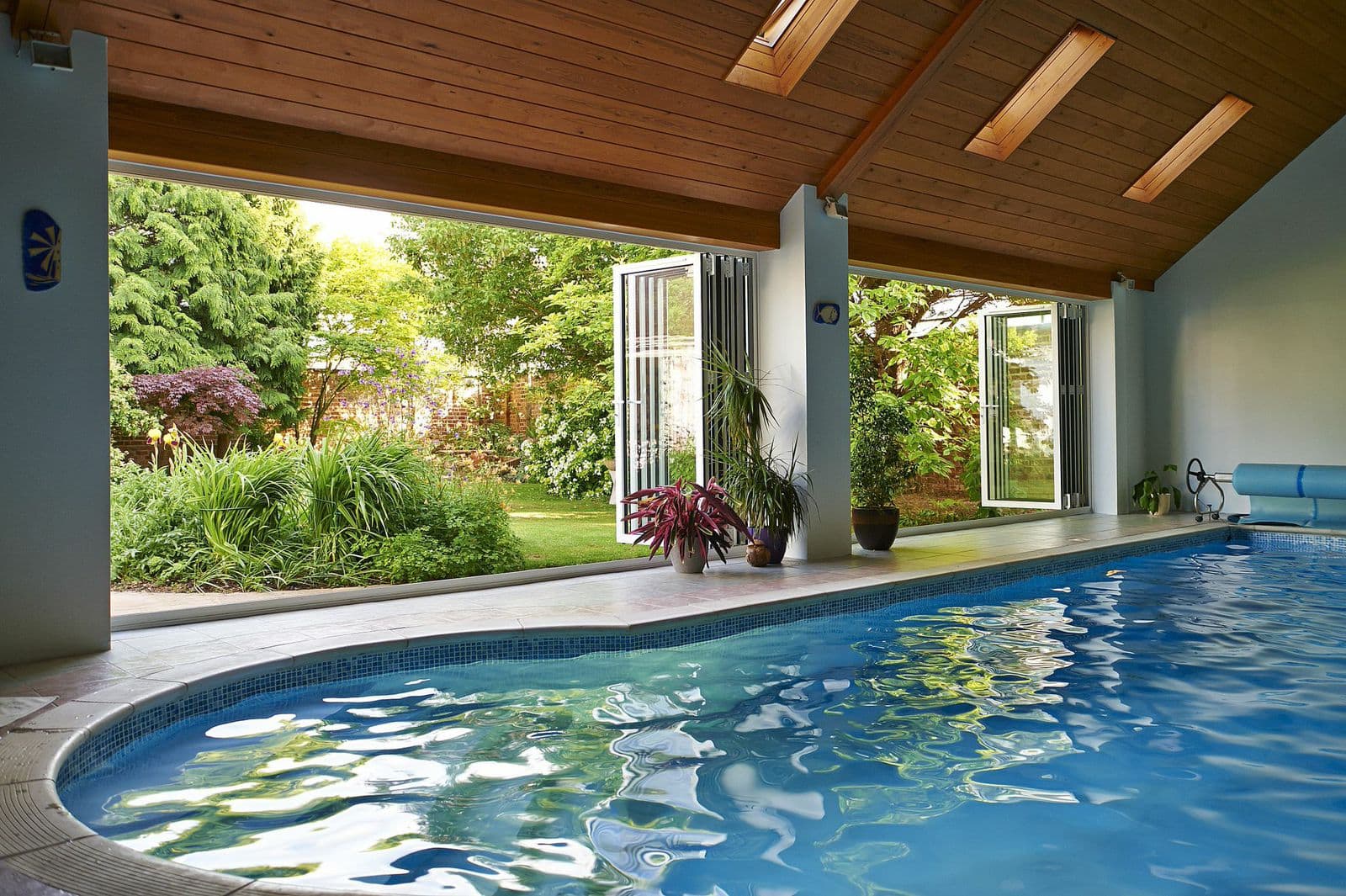 BiFold Door Video
Aluminium BiFold Doors Styles
Aluminium bifold doors add simply stunning style to your Kent home. They create a spectacular entrance to your outdoor area that will delight you all year round.
On warm, sunny days, you can open your sliding doors to their full extent. The intelligent fold configurations mean that they take up minimal space once opened. You will have access to nearly the whole expanse of the installation.
Combining this with a low threshold option, our aluminium bifold doors are ideal for those who need better accessibility for their properties into their outdoor areas.
When it's cold outside, and you want to benefit from your garden from the warmth of your home, our fantastic bifold doors create a supreme viewing area. The floor to ceiling and wall to wall glass is virtually uninterrupted by the sleek, slimline profile giving you an extensive outlook.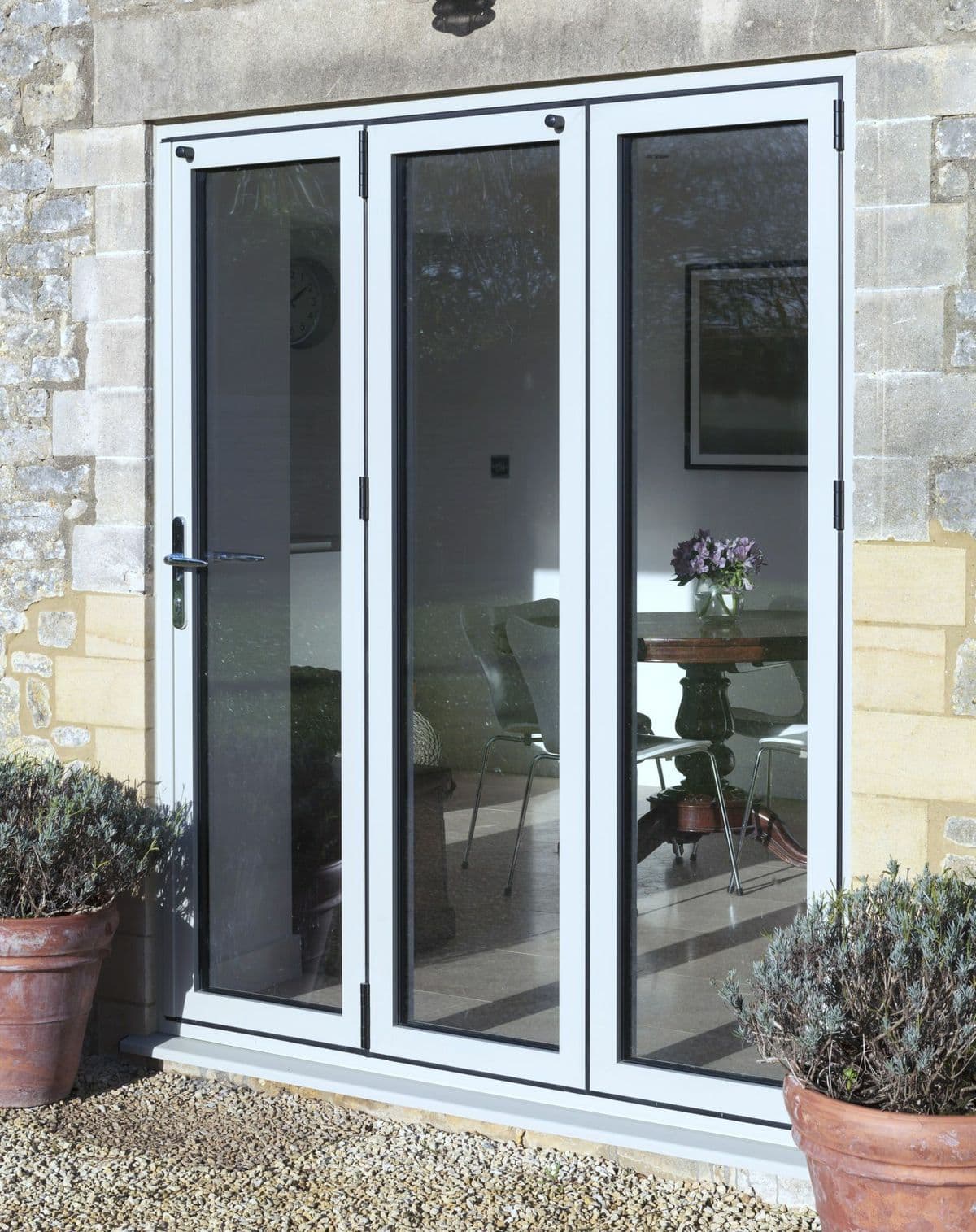 Tailored Design
One of the major benefits of aluminium bifold doors is the tailored design. The aluminium profile can be coated in one of 250 RAL colours, creating a sliding door that complements your home.
You can choose a colour that ensures your bifold door blends in with your home, creating a sophisticated and stylish finish to your home. Unlike timber alternatives, you will not have to strip and repaint these installations continually.
This is because our colour shades are guaranteed not to fade for as long as the doors last. They will not discolour when exposed to the suns rays or the cold and wet weather that Britain is infamous for.
If your tastes are more bold and bright, your aluminium sliding door can be a stand-out feature; a focal point to amazing your guests and neighbours. If not, we have plenty of subtle shades that will complement your existing aesthetics.
Whatever colour you choose, we are sure to have the right one that reflects your style and suits your property.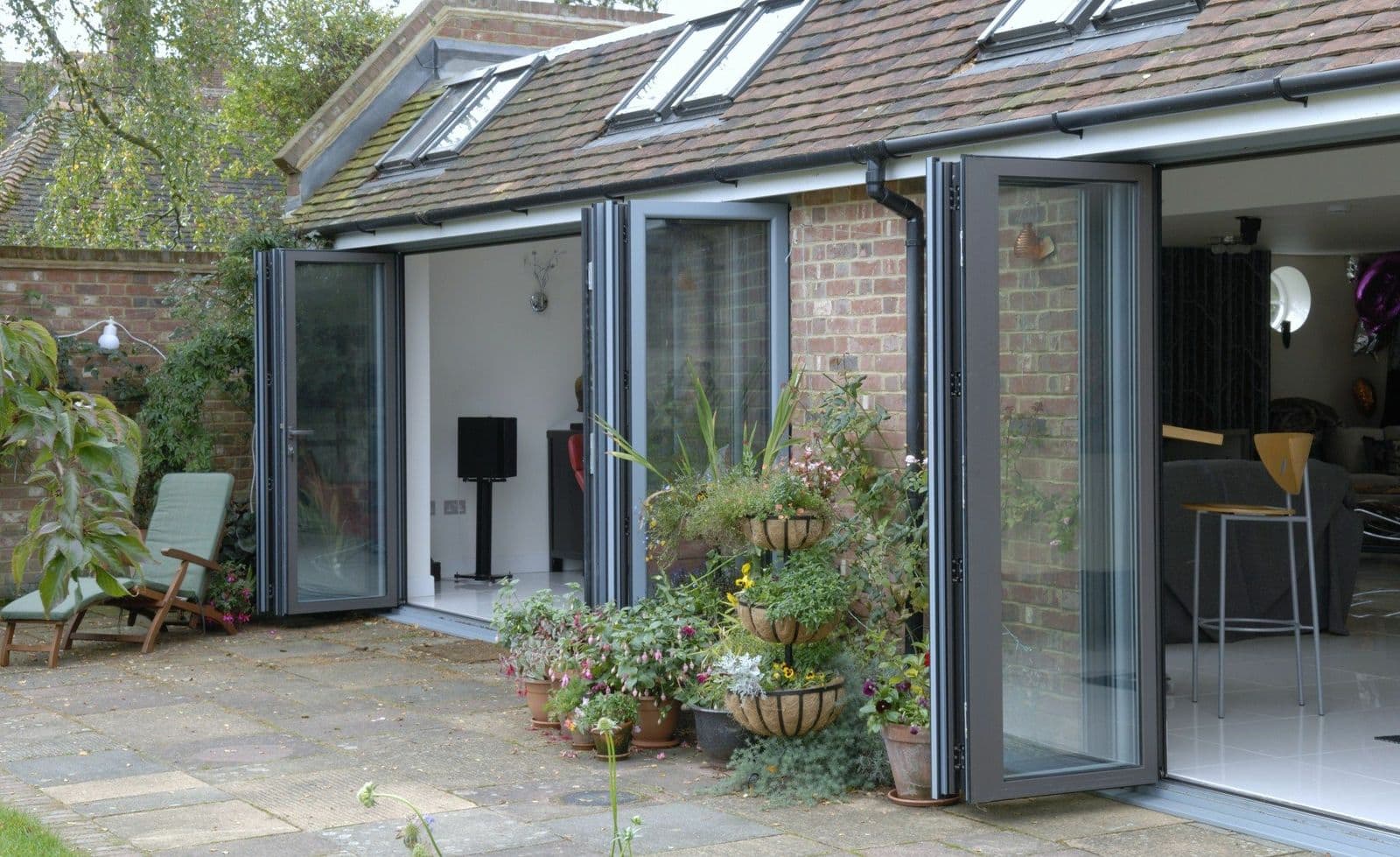 Superb Security
Aluminium bifold doors offer outstanding strength due to the inherent toughness of aluminium itself. When combined with our incredible multipoint locking systems, these doors become almost impossible to break into.
Our fabulous aluminium bifolding doors will thoroughly protect your home. These double glazed doors offer completely unparalleled strength and security to Kent homeowners. Your doors will be almost durable due to the unparalleled strength of aluminium as a material.
Have peace of mind knowing that you and your family are protected by the installation of our robust aluminium bifold doors.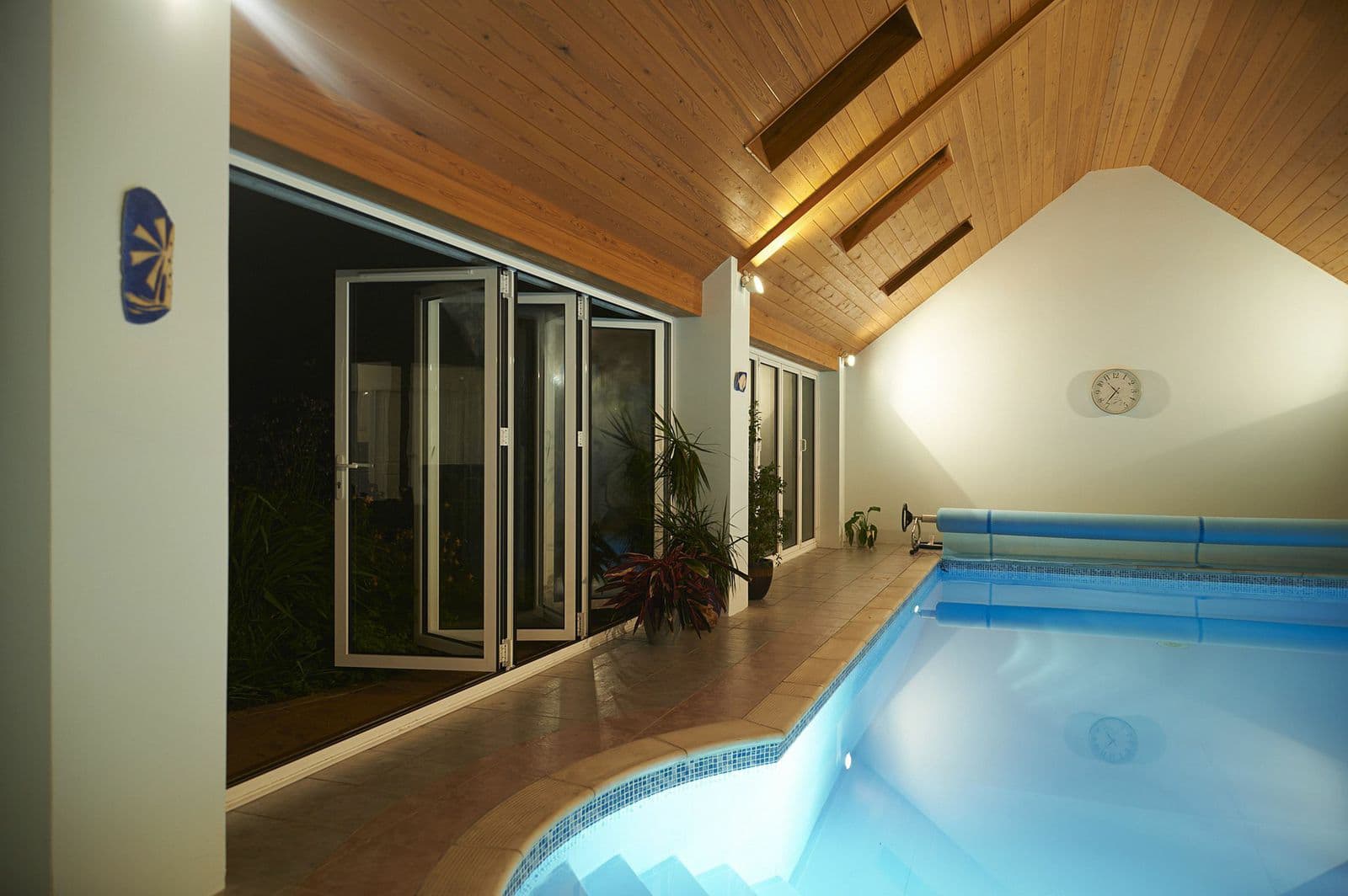 Low Maintenance
Our aluminium sliding folding doors are fantastically low maintenance. Little is required to keep them in pristine condition and performing to the highest standards. These robust aluminium double glazed doors are designed never to warp, rot or fade, giving you many years of quality operation.
All that is required is an occasional clean to ensure no dirt or grime gets into the smooth gliding system. It is that easy! They will not be subjected to rotting, warping, twisting, bending and cracking when exposed to the elements – unlike timber installations.
This means that our bi-folding doors are guaranteed to perform gracefully for many years to come while still looking as good as new.
Get in touch today to see how our aluminium bifold doors will complement your Kent property.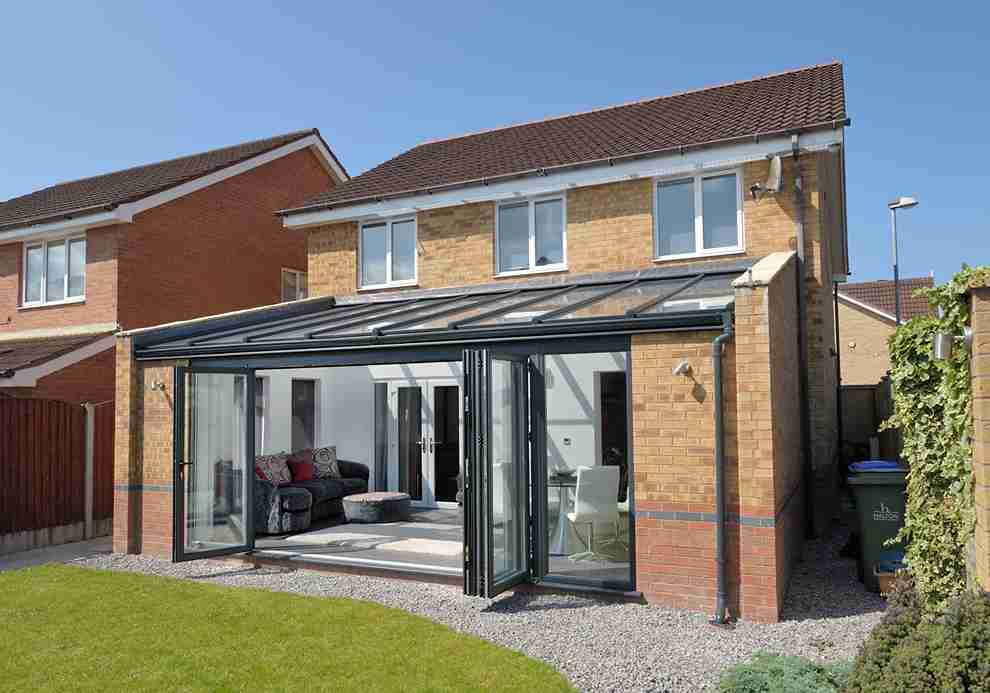 Aluminium BiFold Doors Prices in Rochester, Kent
First Glaze offers competitive, and cost-effective aluminium bifolding doors quotes to our customers in Rochester, Maidstone, Kent, Chatham, Sittingbourne, Lenham and Ashford.
You can get a tailored aluminium sliding doors price from our expert team. Simply start your quote, and we will be able to guide you through your options and provide you with a personalised, online aluminium bifold doors quote free of charge!
For more information, do get in touch with us – our helpful team are always happy to help!
We look forward to hearing from you very soon!