Quality French Doors in Maidstone
Nothing is quite as chic when it comes to home improvements than French doors for your Maidstone home. Add some class and charm with these elegant double glazed doors that offer superb performance all year round.
Here at First Glaze, we pride ourselves on providing our customers with the very best double glazing installation possible, meaning that they get unrivalled quality at cost effective prices.
Our gorgeous French doors offer style, performance and durability, so read on to discover just how amazing they are before making your uPVC French doors choice!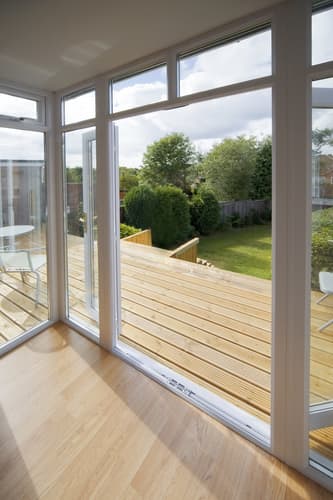 Why Choose French Doors?
The beauty of having French doors for your Maidstone home is the exceptional light that they bring into your property. With floor to ceiling glass, natural light will flood through into your home, creating a bright and airy space.
Their design means that these double glazed doors are ideal for leading out to a patio, or even onto a balcony. You can have them installed so that they open onto a railing from your bedroom if you would like. These doors are incredibly versatile and will enhance any room within your home.
Delight in the easy access to ventilation and the outdoors, making sunny days so much more enjoyable. On cold, winter days, you will be able to appreciate a view of the outdoors from the comfort of your own home, where you are warm and cosy.
Energy Efficient French Doors
Our range of stunning uPVC French doors are not only aesthetically pleasing, but they are capable of superb thermal performance too.
Using a clever multi-chambered profile, these double glazed doors offer outstanding energy efficiency. The chambers act as an insulating barrier, so that heat loss is minimised and the cold is kept out. When this innovative design is combined with our high quality and efficient double glazing, you can count on our French doors providing you with spectacular thermal performance.
Our wonderful uPVC French doors will ensure that your home is kept warm no matter how cold it is outside, which will in turn mean you use less heating, and therefore, have lower energy bills. What more could you as for?
Highly Secure Double Glazed Doors
Of course, when choosing any new residential door for your Maidstone home, security is a primary consideration. With our uPVC French doors, you can be confident that you are protected from intruders.
Using precision engineering, our double glazed French doors are manufactured to be exceptionally strong. When we add in the brilliant high security Yale locking mechanisms which are available with all of our uPVC doors, you can rest easily knowing that your family and property are safe and secure.
We are so confident in the strength and durability of our uPVC French doors, that we offer an impressive 10 year guarantee. Contact us   and find out more about our splendid guarantee.
Wide Colour Range
We want to ensure that you get the perfect uPVC French door for your Maidstone home, so our double glazed doors can be customised to suit your tastes and style, as well as matched in with our other double glazing products.
Our uPVC doors come in a vast range of colours for you to choose from, giving you the opportunity to create a door that totally reflects your personality and property. You can be sure that your double glazed French door will give you many years of pleasure too, as our doors never warp, rot or fade and are covered by our 10 year guarantee, giving you peace of mind.
With minimal maintenance, your new uPVC French door will look superb for many years to come. In fact, with just the occasional cleaning, your door could still look as pristine and perfect as it was the day we install it, year after year.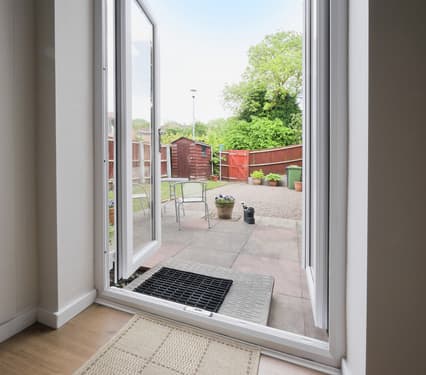 French Door Prices in Maidstone
Our uPVC French door prices for your Maidstone home are fabulous, offering you style and quality at an affordable cost. We are highly competitive when it comes to our double glazed French door quotes, so you will get the best value for money.
Why not visit our online quote calculator for a quick and easy French doors price? It's easy to use and in just a few moments, you will be presented with a tailored quote. Better yet, it's free and there's absolutely no obligation; we won't hassle you or push you into buying a new French door that isn't just right. Try it now!