Double Glazing Repairs – The Cost Effective Option in Maidstone
Double glazing repairs are a great alternative to replacement double glazing for your Maidstone home. You can keep the look you love and enhance the performance of your double glazing using our cost effective double glazing repairs.
Here at First Glaze, we are committed to offering great value for money to all our customers in Maidstone, which is why we offer a comprehensive double glazing repairs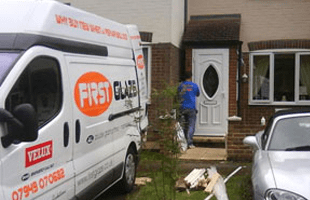 service in the area.
Double glazing repairs are ideal for if you only have one or two windows or doors that have broken or blown, or you have double glazing that perfectly suits your home and you aren't ready to replace it.
Read on to find out more about how double glazing repairs can benefit your Maidstone home.
Urgent Double Glazing Repairs in Maidstone
Did a football go through your window? Or perhaps a stone cracked the glazing in your door? Our emergency double glazing repairs are here to help Maidstone customers when you need us!
Double glazing repairs from First Glaze are available in Maidstone 24 hours a day, ensuring that whenever you have a glazing emergency, we are here for you to fix your windows.
We are a local company, so you can count on us to be with you quickly, enabling you to get repairs done without delay. Our double glazing repairs service in Maidstone is highly regarded and relied upon by many people, thanks to our superb timing and great repairs.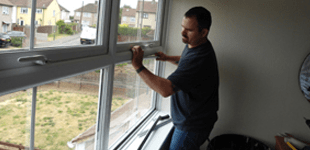 Double Glazing Repairs for Every Occasion
Double glazing repairs aren't just limited to the glass! We offer double glazing repairs in Maidstone that cover all eventualities. Our services cover many aspects of double glazed windows and doors to ensure that your double glazing is fixed to the highest standards.
See our summaries below for information on how we can help you with your double glazing repairs in Maidstone.
Hinge Repairs
Are your uPVC windows in Maidstone having issues with their hinges? Whether the hinge is broken, twisted or rusted, we can help.
Our comprehensive double glazing repairs enables us to repair or replace your uPVC windows' hinges so that your windows operate to the very best standards. You will benefit from smooth operation once more, as if they were almost new!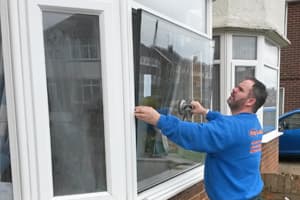 Lock Repairs
Double glazing repairs also cover the locks on your uPVC windows and doors. These essential features of your double glazing in Maidstone are what protects you and your family from intruders, they are vital to your home's security.
Our lock repairs ensure that your uPVC window locks and handles and uPVC door locks and handles are working well and keeping you safe and secure.
Window and Door Repairs
Our double glazed door repairs are the perfect option for if your uPVC door, stable door, French door, patio door or bi-fold door is broken. We can fix almost any issues with double glazed doors in Maidstone, ensuring that they are back up and running in no time at all.
If a repair isn't possible, you can take a look at our superb range of uPVC doors which we install throughout Maidstone at cost effective prices. They come in a range of styles and designs tailored to meet your needs and they are truly high performance.

Double Glazing Repairs for Your Maidstone Home
We also offer comprehensive triple glazing repairs and we can even repair your conservatory too! No need for misted glass, or leaky conservatory roofs, our repairs enable you to achieve excellent performance from all your glazing no matter where it is installed in your home.
We even provide a double glazing health check for your uPVC windows and doors, to ensure that they are all in perfect working order, and providing you with the great performance you would expect from double glazing.
Not got uPVC? We Can Still Help!
Double glazing repairs aren't only for uPVC windows and doors, our comprehensive service also covers aluminium windows and doors as well as wooden products.
Wherever you need double glazing repairs in your Maidstone home, and whatever products you have, First Glaze can meet your needs!
Double Glazing Repairs in Maidstone – So Much Choice!
Our double glazing repairs cover every aspect of your windows and doors. We can repair or replace decorative glass, acoustic glass, laminated glass or toughened glass. We can fix your cracked units and if you need replacement double glazed units, we are able to provide that too with a wide variety of options for you to choose from.
Why not get in touch with our expert team and talk to us about the double glazing repairs you need in your Maidstone home? Our double glazing repairs prices are highly competitive and our service is honest and trustworthy – we will only offer to replace your double glazing if there is absolutely no other choice.