Amazing uPVC Doors for Kent Homes from First Glaze
When it comes to home improvements, new uPVC doors for your Kent property are a great choice to make. Not only will they improve the appearance of your home, but also its performance.
Old and tired doors can be weak, making them poor for security, and they can also become inefficient, letting out precious heating.
When you choose new uPVC doors to enhance your Kent home, all these issues will be resolved and your property will be safe, secure and efficient once more.
Here at First Glaze, we offer Kent homeowners a variety of uPVC door options to ensure that they can find the perfect match for their home. Our doors are superior, offering fantastic quality and performance, and improving your home's appearance and its functionality.
Take a look at our guide to uPVC doors in Kent to see how our superb range could benefit your home.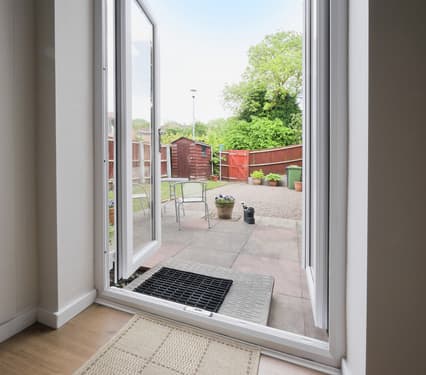 Impressively Energy Efficient uPVC Doors in Kent
Our uPVC doors are superb when it comes to energy efficiency. Using the latest innovations in double glazing, they achieve the high standards set by Building Regulations and keep your home cosy on even the coldest winter days.
The cutting edge technology works to keep heat within your home, blocking out cold air and draughts, so that your property stays warmer for longer. With new uPVC doors from First Glaze, you could find that you need less heating to maintain a comfortable temperature, meaning your energy costs are lowered.
With such exceptional thermal performance, it's easy to see why our uPVC doors are such a popular Kent home improvement.
Superb Weather Protection from uPVC Doors
Keeping your home and family safe from the dreadful winter storms that we experience in Kent is vital, so with our uPVC doors, you can count on complete protection.
They are precision engineered to be weather proof, protecting you from gale force winds, torrential rain and heavy snow. No matter what the weather decides to do, with our impressive uPVC doors, you will be safe and comfortable within your home.
Outstanding Security Performance
When it comes to security, our uPVC doors really do offer outstanding protection. Every door meets the highest quality standards and is constructed using cutting edge designs and technology to ensure that they are robust and durable.
In addition to this, we install the latest high security locking systems from Yale [link] as standard in our uPVC doors to ensure that they really will protect you from even the most determined of potential intruders.
With uPVC doors from First Glaze, you can have complete peace of mind that your Kent home and family are safe and secure.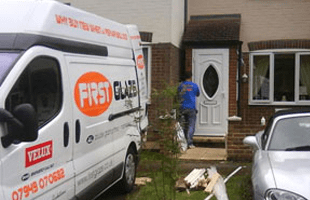 Stylish Designs Tailored to You – Customise Your uPVC Doors in Kent
Every homeowner has a different vision for their ideal uPVC door, and so with First Glaze, we offer a range of customisation options to ensure that your new doors reflect your tastes and complement your Kent home.
Choose from a variety of colour finishes or natural woodgrain foils to create a stylish design, which ties in with our stunning uPVC windows. You can also choose from a great range of decorative glazing to create a truly personal, and practical, look.
Every detail is taken into consideration when we create your new uPVC doors, so we also offer a range of hardware options and accessories, including a comprehensive selection of door furniture from door knockers to cat flaps.
There are several uPVC door styles available for your Kent home from First Glaze, so take a look at our summaries below and see which is right for your property.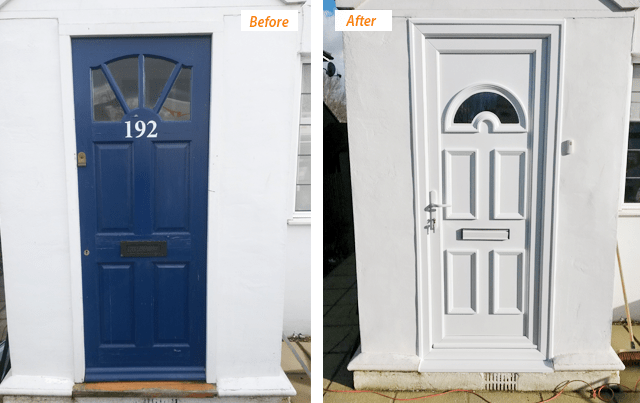 uPVC Doors
Our panel doors are ideal as either front doors or back doors, with a range of panel designs available, as well as glazing options, they create a beautiful and stylish entrance to your home, enhancing its aesthetics and performance.
For ultimate security and insulation, our composite doors offer an authentic alternative to timber, creating an exquisite entrance to your home that offers luxury style combined with the most incredible all round performance.
Simply amazing, these double glazed doors will create the most breath taking feature in your home, allowing you to experience luxury living through a seamless connection between home and garden. These stunning uPVC doors are one of the most sought after Kent home improvements.
Our modern uPVC patio doors take the classic style and design of sliding doors and bring it into the 21st Century with incredible performance and smooth operating systems that are designed to offer many years of operation. Enjoy panoramic views and extensive natural light with these beautiful doors.
For elegance and chic style, our uPVC French doors will enhance your home in so many ways. They are versatile too, making them a great choice for an entrance to your garden, or an opening to your balcony. They are the ideal choice for enhancing the character of your property.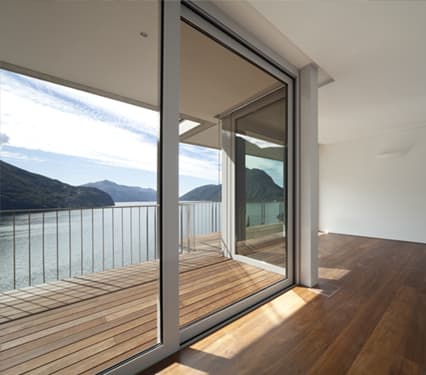 uPVC Door Prices in Kent
Contact our friendly team for more information on our uPVC doors in Kent, or visit our online door designer and see how these doors could be the perfect home improvement for you.